We have always liked to go camping, and living in Alberta has given us plenty of great outdoors to explore and live in, if only for a weekend. We moved from camping in the back of the car to a flimsy tent, then to the parents early '80s camper van. That camper van gave us our first taste of being able to sleep on a comfortable bed and have access to a full kitchen. Unfortunately, the furnace and fridge weren't operational, and we wanted to get ourselves a flush toilet. At this point, we started looking for a trailer.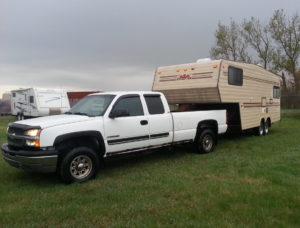 In the early spring of 2013, we bought a 25′ Valley 5th Wheel trailer, and a 2004 Chevrolet Silverado 2500HD to pull it around with. It has been a great trailer, but is showing its age and has started to develop some issues.
After watching far too many tiny house shows on HGTV, and reading blogs from Gone with the Wynns and Heath and Alyssa we started thinking about how we can retrofit our current trailer into a full-time home on wheels. Currently, we are in the research stage, trying to figure out how to rebuild the trailer, and how to pay for the rebuild too. One of the goals is to be able to spend winter in the trailer, though we may have to think about moving ourselves and the trailer somewhere where the temperatures don't drop to -30 overnight. Another goal is to have the build planned out to use every bit of available space. A little reading up on minimalism has helped us start to slim down our possessions, so hopefully, once we move into the trailer, everything we bring will have a purpose.
So this marks the beginning of our RV life transition. This may take a few years of preparation, planning, and building, but we are confident it will happen. Stay tuned for more ramblings and rumblings while we plan this out!