On the Hunt for Internet
We arrived at Humbug Mountain State Park Campground and noticed how few people were camping around us. It would be a quiet couple of days. We also noticed right away how little cell service we had. It was all hiding on the other side of the mountain. So off we went to find internet so Morgan could complete some video editing.
Our first choice is always Starbucks but Port Orford was too small for that. We checked Facebook to see if any businesses were listed as having free wifi. There were a couple of small coffee shops, but nothing was suitable for us to set up in for a couple of hours. Our next favorite option for free wifi is public libraries. Lucky for us, Port Orford had a great little library with decent internet. We were even able to give a little back to the library by purchasing some chocolate. Definitely a win-win.
Black Sand Beaches
After laundry was completed, we set out to see what interesting sights Port Orford had to offer. The visitor information mentioned black sand at Battle Rock City Park. That caught our attention. Oregon had been full of gorgeous beaches and this one was no different. However, the sand was not quite as expected. It wasn't black. Darker than usual, but not black. We did find some ribbons of black sand running through the beach which was interesting.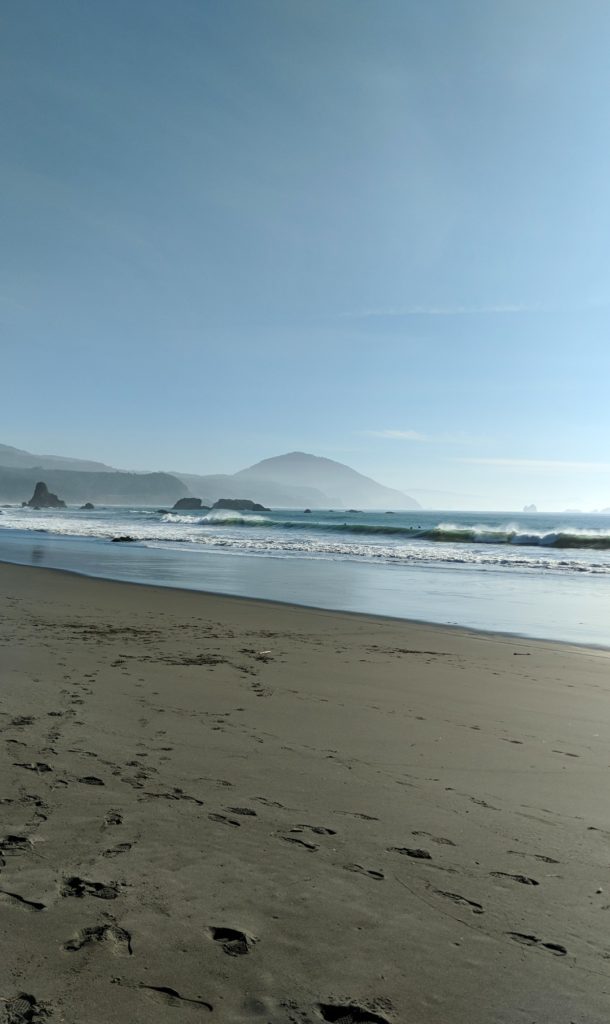 Some digging on google revealed that black sand beaches in Oregon are caused by the presence of heavy metals such as magnetite concentrated by the waves. Some of the minerals in the sand are black, but not enough to make a black beach. Hawaii also has black sand beaches. Its beaches are made up of pulverized lava rock, so depending on the concentration, the beach can actually look black. We didn't see what we expected but did learn something new.
Our tour also took us a little bit north to Cape Blanco State Park. The walk over to the Cape Blanco Lighthouse was not the most fun due to a cold wind, but the view was worth it. The Oregon coast had not disappointed us once. There was a geocache in the area and we were able to mark it down as our westernmost find. 
Our final exploration for the day was the beach next to our campground. We followed a sandy path under a bridge and round a hillside over to the ocean waves. The beach even had a turquoise lagoon that was separate from the ocean. Wookie had a great time splashing about in the shallow lagoon waters and chasing sticks along the beach. We couldn't help but notice how dark the sand was, and the sun hadn't even started to set yet. We had found an even more striking Oregon black sand beach and hadn't even realized it! The sun set over the rolling waves and was a nice capstone to our time in Oregon.