Back in July, we decided to take a few days off of the grind, enjoy the summer weather, and do a bit of driving. We met up with a group of MINI drivers who were traveling through Canada, and making their way to Portland, OR to kick off an epic MINI Rally. This Canadian leg was titled "The Great Canadian Bacon Invasion" and consisted of 13 MINI's that were joined at some lengths by another 104 MINI's. We met the group at MINI Calgary but didn't drive together until the next day when we all met in Lake Louise.
Day 1 –  Lake Louise, AB to Kelowna, BC
583km – 8.5hr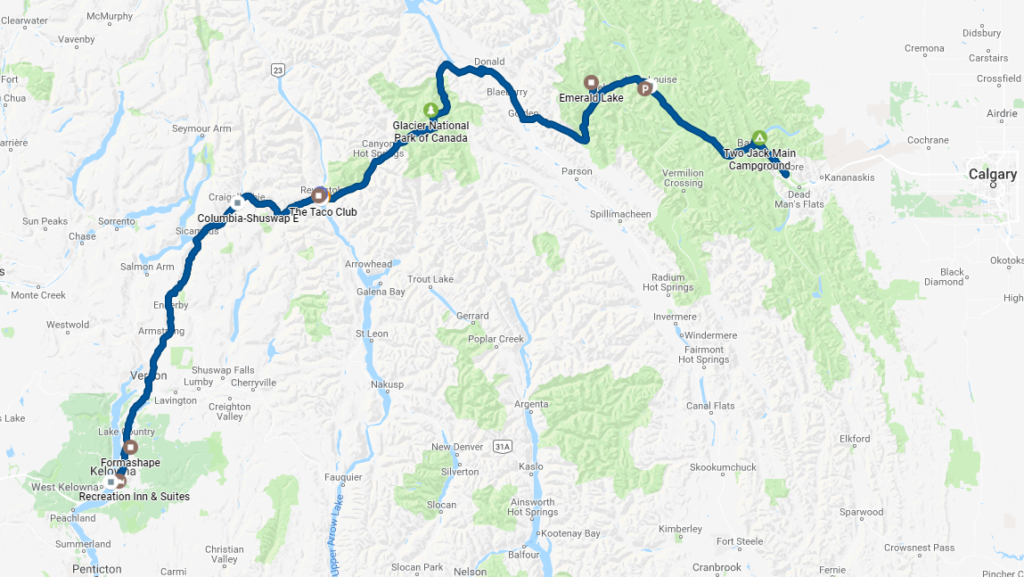 We woke up in Banff National Park at the Two Jack Main Campground. From there we drove back to Canmore, AB to the breakfast meeting point, only to find out that breakfast was canceled and the group would be heading directly to Lake Louise, AB. We quickly fueled up and headed west to Lake Louise. After grabbing a 'quick' breakfast, we headed to the lake and met up with the group. From there the group headed to Emerald Lake in Yoho National Park. We took time here for a few group photos before moving along to a fuel stop in Golden, BC. From there, the next stop was at the summit of Rogers Pass. Some of the group split up at this point but met back up in Revelstoke, BC. After a lunch stop, we motored along to Sicamous, BC, and then onto Kelowna, BC. We had a hotel for the night in Kelowna and took the opportunity at the lake to let Wookie have a quick swim.
Day 2 – Kelowna, BC to Richmond, BC
455km – 6.5hr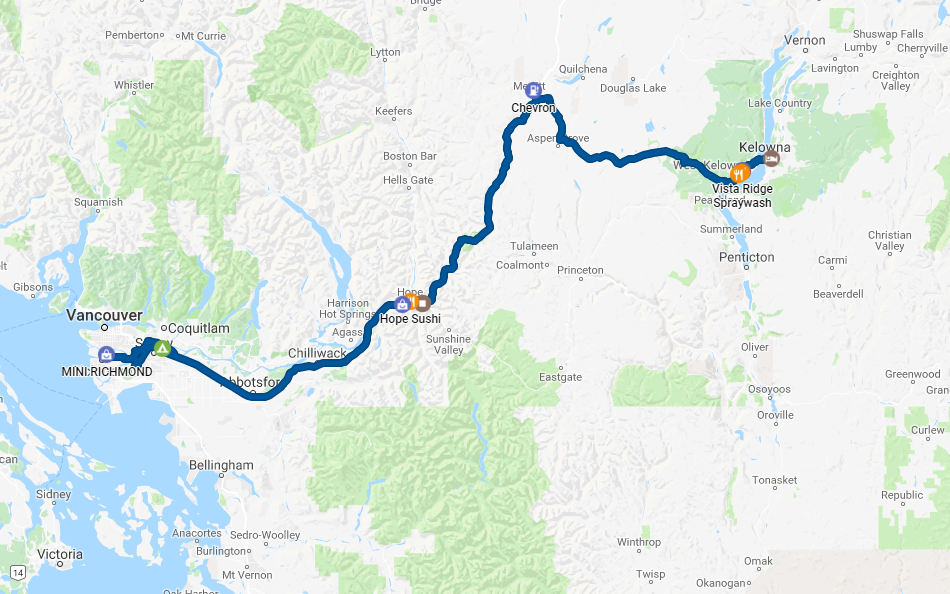 Our day started off grabbing a few supplies and a car wash before breakfast coffee and meeting up with the group in West Kelowna, BC. Our group was larger today, around 30 MINI's traveling together. The leg to Merritt for our first fuel stop went quickly. We then headed south on the Coquihalla highway towards our lunch stop in Hope, BC. Before getting to Hope though, we took a small side trip away from the group to Coquihalla Provincial Park and the Othello Tunnels.  We didn't end up seeing the rest of the group in Hope, so we motored alone to our campsite in Delta, BC at the Dogwood Campgrounds. Once we had quickly set up camp, we mapped out our route to MINI Richmond and set off, going through New Westminister towards Richmond. Our car was one of the first as we managed to beat the group coming over from their hotel. MINI Richmond hosted us all for the evening, providing food, drinks, and raffle prizes. After the meet-up, we headed back to our campsite to get a good sleep in before our next early morning.
Day 3 – White Rock, BC to Kettle River, BC
531km – 8hr
It was a chilly early morning meet up in White Rock, BC before the group headed for the USA border. We were able to say goodbye to all our new MINI friends and drove behind them to the border. At the border, there is an international park area, called Peach Arch Provincial Park in Canada, where we were able to catch our last glimpse of the group. After seeing them go, we got back into our MINI and looked forward to the trip home, even if it would be a bit more lonely. We drove through the Lower Mainland up to Harrison Hot Springs, where we were able to dip our feet and grab a small ice cream. From there we traveled to Hope and onto the Crowsnest Highway. It was a spirited drive through to Osoyoos, though we did stop a few times along the way to stretch our legs and let Wookie swim in some lake or stream. Our campsite for the night was a bit past Osoyoos, at the Kettle River Recreation Area.
Day 4 – Kettle River, BC to Calgary, AB
791km – 10hr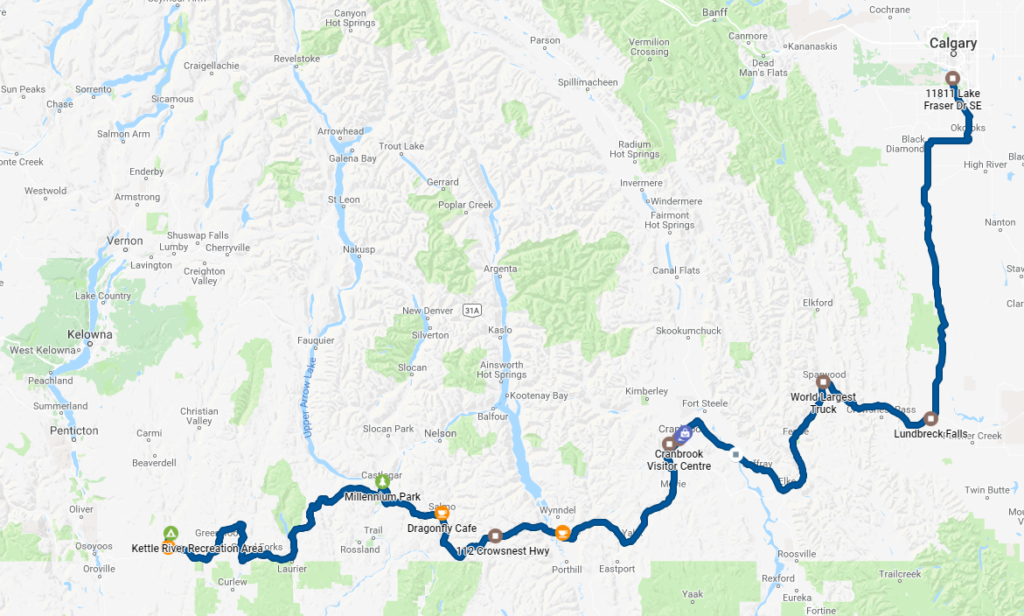 This was going to be our longest day, and we knew it. We started a little later in the morning than we wanted, but still on the road by 9 am. After getting coffee and gas in Rock Creek, just down the road from our campsite, we continued on to Castlegar. Wookie once again got to stretch his legs and swim in the river for a bit. More driving as we continued to Cranbrook, where we followed the GPS down a nice dirt track looking for a doggy friendly beach. Once we got back onto the highway, we continued on, stopping in Sparwood at the 'worlds largest truck.' It was starting to get late, but we had to make one more stop, at Lundbreck Falls, before the long stretch home.